Congratulations to all the winners of the Just Start IT Gala Final 2016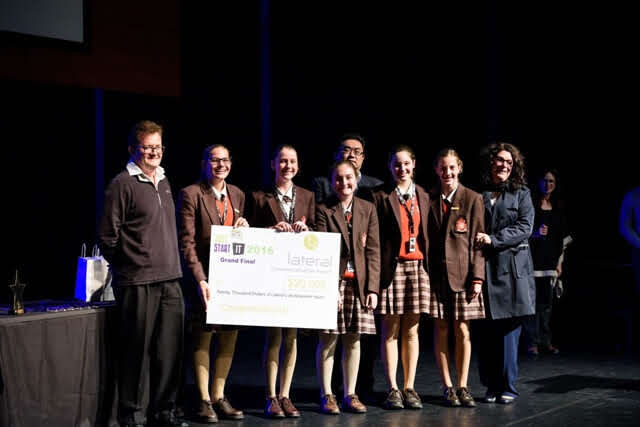 Just Start IT is a high school program run by the passionate drivers Lainey and Steve Weiser, teaching high school students how to create and take to market their own tech start up.
This innovative high school program is carried out by mixing classrooms of IT students to surround real world problems with the right X-factor to conceive and take to market the most innovative solutions.
The Just Start IT program extends students' education beyond classrooms and infuses participants with tenacity and the right talent pools to do what 21st Century Business does – utilise technology in disruptive measures to enable end users, and reach audiences through social media, YouTube, vlogging, and blogging.
'The outcomes have been explosive, with students who start out disengaged bringing the best to the game. We have been told by many VC's that our students pitch better than many adults they've seen' Lainey Weiser, Driver & MD at Just Start IT, says of the program.
With a passion for helping and working with youth in our community, Tommy was greatly honoured when approached by Lainey to be one of the judges on the evening and charitably donated $20,000 worth of Lateral's services to provide the winner with a head start towards building their future.
All the 2016 winners at the Just Start It gala final were:
First prize: Perfect Party Pack - Northern Beaches Christian School
Teacher: Christopher Sassine, mentor: James McKinnon from Sittr
Award: The Just Start IT 2016 Start Up of the Year ($5,000 cash to the team and trophy to the school)
Pet Topia - Sacred Heart College
Teacher: Tanya Atherton, mentor: Brendan Stocks
Award: The Lateral Commercialisation Award worth $20,000 awarded by Tommy Shin from Lateral
Tutology - Como Secondary College
Teacher: Brenton Scufca, mentor: Darren Mottolini
Award: Microsoft Prize for Best Minimal Viable Product
Tutology and Be My Guide - Como Secondary College
Teacher: Brenton Scufca, mentor: Darren Mottolini
Award: WAITTA Incite Awards prize sending 2 teams to Melbourne to pitch at the iAwards presented by Sue Findlay head of WAITTA
Get Work Network - Joseph Banks Secondary College
Teacher: Sarah McGill, mentor: Lainey Weiser
Awards: The City of Wanneroo, Secure2Go and Community to Go 'Building a Future Together' league prize and the Student Innovation Award full build and go to market strategy worth $25,000
20apptive - Comet Bay College
Teacher: Lisa Coates, mentor: Karle Moyse
Award: The Moshi Moshi Marketing Branding & Full Build Package
Smiley Care - Armadale SHS
Teacher: Simon Montgomery, mentor: Steve Weiser
Award: The Just Start IT full build package presented
Each of the 11 competing teams also received the Radio Edge media package worth $660 consisting of a media training session, an interview on Business Edge radio and a downloadable podcast.
Congratulations again to all the night's winners!
If you'd like to know more about the Just Start IT program or the 2016 gala final, visit http://juststartit.co/
Or, if you would like to find out how Lateral can help you create an award winning IT start up, get in touch with us here.