Modernising Legacy Systems

CIOs (Chief Information Officers) have to look into modernising legacy systems while being under the pressure of streamlined IT budgets, having to justify IT spending as well as to deliver increasing service efficiency.

Factors are emerging technologies (cloud, mobile), demands and expectations: Today's workforce expects modern, dynamic Web capabilities instead of antiquated Green Screen interfaces. Furthermore, BYOD (Bring Your Own Device) has been embraced by more and more companies, so existing systems have to be flexible and modern in an ever changing technical environment. CIOs have to adapt and make the right decisions.

Bite the bullet or modernise

Companies who feel that their old systems are outdated and are looking to update them have two choices to make
Throw out the old system and implement a completely new system on a new hardware platform or
Retain the basic functionality of the old tried and trusted system but modernise the user interface.
Throwing out the old system will mean searching for a product that provides the functionality of the old system and additional functionality. It will require data migration from the old system to the new, training for all users of the system, training for the IT support staff and work-shopping with key users in order to configure the new system to the business requirements.

Retaining the core functionality of the old system but modernising the user interface is a less expensive and less time consuming alternative to replacing the old system. It will require less retraining for the majority of users, IT support will be familiar with the system and the user interface can be designed to suit the specific needs of the business rather than a generic interface.

What does application modernisation mean?

Legacy application modernisation means taking an application built in the past and changing it to be not only more appropriate for today's business opportunities but also to make it future-proof against changes in legislation or business direction.

CIOs not only have to retain the investment made over the years, but also to keep the current information, often built over decades, and even extend the value both of the investment and the precious information; they have to make the information usable by creating reports so the management can utilize it to make informed decisions.

Modernisation means changing a legacy application to become a modern application.

Comparing the characteristics of legacy and modern applications provides insight into what must change in the legacy application during the modernization process. Lansa has summarised the differences between Legacy and Modern Applications as follows: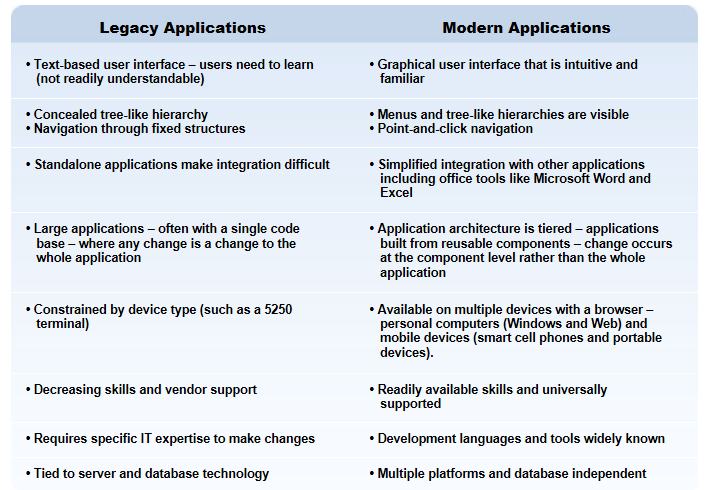 Legacy vs Modern Application explained

How to make a legacy application look modern
Since the introduction of PCs on every desk, laptops and mobile devices, users now expect applications to have all the features and user interfaces of a modern application. They are not concerned about what platform the system runs on or what technology it uses so long as they are able to access the system using the same interfaces and devices that they use to access all the other applications they use on a daily basis.

The key factors involved in being able to successfully modernise application are:
Business knowledge – understanding the business processes the system fulfils
Knowledge of legacy systems – there is no point in trying to modernise a legacy system if knowledge of the system is limited
Experience in modernising applications
A sound knowledge of modern systems and what the user expects from a modern system
The correct tools to perform the modernisation
An often underestimated aspect is Change Management that has to be attended to before the modernisation project is tackled technically. Departments across the entire company have to be open for modernisation. But this would require a separate blog post.

Tools
There are a number of tools available that can be used to modernisation legacy applications.

The tools used by us to develop modern interfaces for our clients are the Lansa toolset as well as Microsoft's .NET ("Dot Net") tools, depending on the client's current systems that should be modernised.



.NET is a modern programming and application framework developed by Microsoft for a range of technology uses. It can be used across all Microsoft platforms, from Mobile through to Enterprise services.

.NET can be used on any range of business applications from Point of Sale through to Data Management Services and Endpoints. Many companies who have run their business on VB (Visual Basic) or Delphi are realising the modernization imperative – .NET is a good option.



Lansa is widely used by companies who wish to modernise their legacy applications principally running on IBM I systems (AS400). In a previous blog post, we answered "what is AS400?" as the younger generation might have come across AS400 in corporate organisations but haven't covered it during their education. There are still many corporates worldwide relying on these legacy applications in a diverse range of industries including banking, insurance manufacturing and retailing.

Lansa has a whole range of tools that can be used to modernise these applications. They range from simple screen scraping tools to full re-development tools of green screen applications into windows, web and mobile applications whilst retaining the original database.

Providing a web front end to a web application is one of the most popular forms of legacy systems modernisation. The web pages can be developed using Lansa or .NET tools together with bridging software between the web page and the legacy application.

An Example

The example below shows two client's screenshots, based on the same system. The screenshots were provided by our client, courtesy of Honda MPE, Melbourne.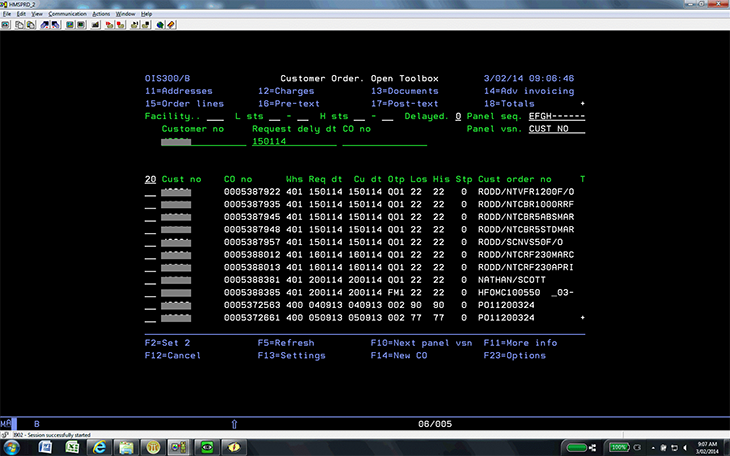 Greenscreen client's example Honda MPE

The above screenshot shows the green screen version of a dealer's list of orders. Commands can only be entered by keyboard and headlines are not self explanatory. Green screens make frequent use of F functions to reach other menu selections. This version uses three different colours to guide the user's eye, whereas early versions only used green letters and numbers, hence the name.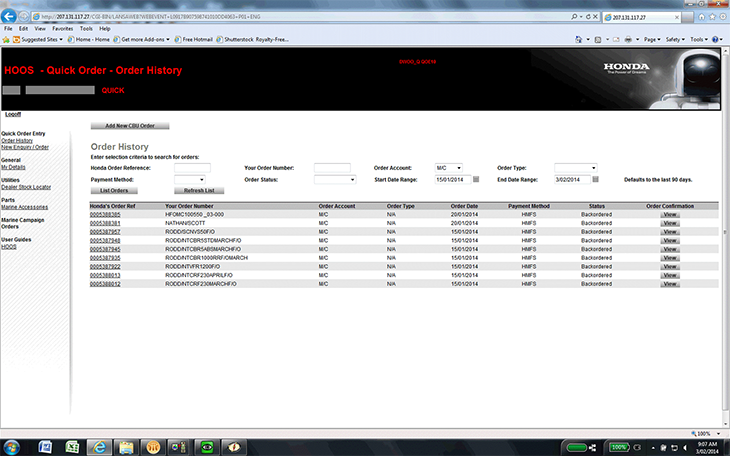 Modernised Web Version Honda MPE

This screenshot is the web version of the same orders shown before on the green screen. It has a more self explanatory interface, can conveniently be used with a mouse and has more intuitive elements such as dropdown menus, buttons and calendar dates to choose from. Honda MPE modernised with Lansa.

The website provides access to a company's dealer network in order to place orders to replenish stock. The system integrates two ERP system into one web interface and has reduced the administrative effort at the head office, has reduced the number of errors, has lead to an increased number of orders and has improved production planning as orders can be placed at any time and in advance.

Outlook into the Future
The benefit of this type of modernisation is that in case the client moves to a new ERP system, the web site can still be used and the only changes required will be the bridge into the new ERP system.

The current trend is to develop a mobile interface into legacy applications which can also be achieved using Lansa and .NET tools. The users see modern, graphical front ends on their phones or tablets while still integrating with the existing legacy application.

If you need help to provide a modern look and feel to your existing system with the option to re-use software, just give us a call on 1300 585 355 or send a mail to info@lateral.com.au. We have many years experience in modernisation and integration.