Supercharge your business performance with custom apps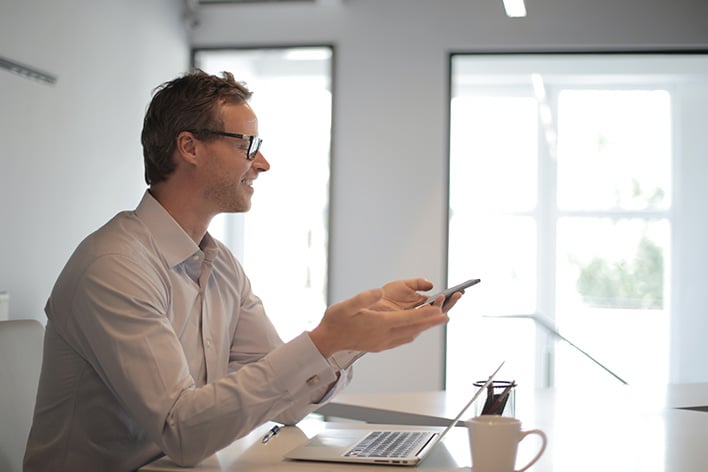 We're in a new age of technology where mobile apps have become crucial in our day-to-day lives. We need apps to read the news, connect with like-minded people who share the same interests, track our steps, and even go shopping. Apps make our digital world go round!
But did you know you can supercharge your business processes with the right custom apps? Mobile app developers can tailor them to perfection to meet your needs and help you reach your business goals. By utilising the right tools for your business, you shape your success and fully equip your business for continuous growth! Custom apps can support the different facets of your business, from speeding up processes to boosting efficiency.
Sure, there are a myriad of tools and software out there; it's tempting just to purchase as many solutions as possible to increase your workflow productivity but choosing tools that don't necessarily fit your business' needs is actually counterproductive, not to mention costly. You'll be left with an overwhelming number of tools and many features you don't really need.
Custom apps allow you to only pay for what you use in your workflow while streamlining processes and letting your business run smoothly and efficiently!
And that's what we're going to talk about today, folks! The power of custom apps and how they can open up a world of opportunities for your business. So, grab a coffee and read on!
Turn your app into reality with Lateral
Custom business application development
Much like off-the-shelf software, apps designed to cater to the general market don't give you the flexibility to run your business. Every business is built differently, so a ready-made app won't have the right combination of tools to fit your needs. When you go custom, you'll have everything your business needs right in front of you!
While a cookie-cutter app might seem like a convenient choice but really, it can only go so far and address a limited number of concerns for your business. With ease comes its downsides. When you customise your app, there's a higher percentage of efficiency and productivity. So, a custom app is the way to go if you're looking for that competitive edge to smoke out other businesses and push your business to its peak.
Still not convinced? Let's talk numbers!
According to the State of the Custom Apps Report, businesses using custom apps experienced a massive 74% boost in productivity, with inefficient tasks reduced to an impressive 81%! A custom app perfectly tailored to your unique business needs has proven to be conducive to getting things done efficiently and accurately. In fact, the report stated that custom apps reduced data entry errors by 71% and have made it easier to share information amongst the team by 94%.
Custom apps power the way your business works. From enabling teams to access and share data with ease to providing impactful insights, it's no wonder that companies backed by custom apps are becoming an unstoppable force!
Ready to get started turning your app idea into reality? Get in touch with us, and we'll bring it to life together.
The benefits of creating custom apps for your business
Now, time to go deeper into how a custom app can supercharge your business and ultimately drive your success!
1. Automated and Integrated SystemI
You are more than likely to stumble through errors while stressing over tedious tasks when you have a disorganised and divided system. Especially when there are plenty of hands working on one line of work. This can be time-consuming and costly. With a custom app, you can simplify complicated workflows with a tap. It chops off a huge chunk of time to transfer and brief tasks to different team members while ensuring that everything is working smoothly. An automated workflow that's powered by a custom app promises not only efficiency but also quality results.
Imagine you have a company that assembles units. Now, to ensure everything is done correctly, you'll require the supervision of a technician. However, without a custom app, you'll find your technician trudging from the assembly area to the office to update the progress, adjust timings, and order new parts. Then it's back to the assembly area again. With a custom app, the technician won't have to break a sweat as he easily documents everything and inputs updates in the system no matter where he is, even when he's busy overseeing the operations in the assembly area. This also ensures that all data is up to date and accurate while easily accessible to other members who heavily rely on inputting the data, saving you time and energy to focus on more critical tasks.
2 Efficient Reporting and Impactful Insights
Do you always dread that time of the month when you have to prepare the report? The chances are that you're using different software and apps for different information needed for the report, you'll often find yourself poring over all these different insights and putting them together like puzzle pieces. When you utilise a single custom app to retrieve information, this simplifies the process and ensures that the insights are centralised and accurate, making reporting a breeze!
Having your own custom app gives you much deeper and more impactful insights to analyse your business better. As a result, you can easily make data-driven decisions to further your growth!
3. Streamlined Communication
This is a vital benefit, especially for businesses that have teams working remotely. With the new normal still in full force, communication must stay crystal clear amongst your team. You'll need a go-to line of communication for all your members. If you and your team are sending each other messages on different platforms, it can be overwhelming, and miscommunication will surely ensue!
Skip out having to transfer a single piece of information from one person to another, this can only waste time and not to mention energy. A custom app that allows every member to make announcements or share information with the whole team saves you from confusion and stress from being bombarded with separate messages left and right! Custom apps make communication a whole lot easier and faster, speeding up progress and maintaining the quality of your work.
Ready to elevate your business with custom app development?
We're here to bring your app to life! At Lateral, we develop tailor-made mobile apps for businesses that require a robust solution. We don't develop for the sake of an app; instead, we take the time to learn about your unique needs so our app developers can help solve your business problems.
With over 30 years of experience, we live and breathe innovation. We are passionate about developing perfectly tailored solutions for businesses in different industries such as healthcare and FinTech.
Get in touch with us today, for a successful tomorrow.