software
Making better business decisions with machine learning technology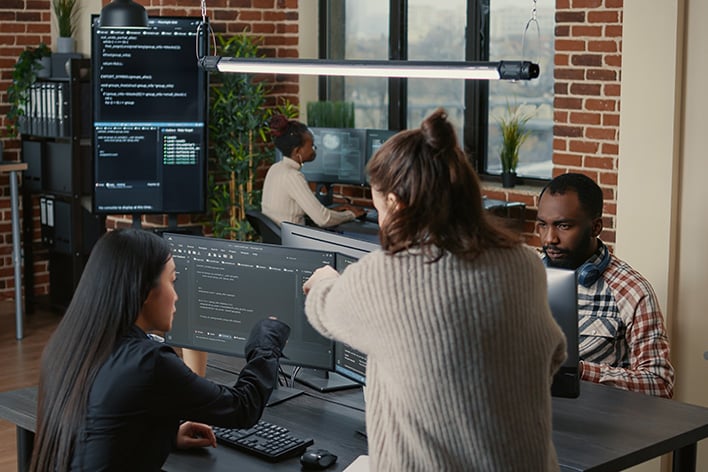 The massive surge of Automated Intelligence (AI) technology, particularly in the areas of Machine Learning, across businesses of different industries, has become essential for maintaining a competitive edge in today's fast-paced digital world. And there are no signs of stopping for Machine Learning. If anything, it's on the brink of revolutionising how businesses run their day-to-day operations and, most significantly, how they make AI-based decision-making for further growth.

In fact, the Australian market today is increasingly showing interest in implementing Machine Learning to their business by 82%. When it comes to Machine Learning in decision-making, this powers a plethora of companies, especially eCommerce, to better understand their target customers with the help of behavioural data. This information provides opportunities to improve cross-selling strategies, providing highly relevant add-on recommendations for each customer during the checkout process.

And that's just scratching the surface of an even bigger world of Machine Learning solutions. Learn about choosing the best Machine Learning Software for your business needs here.
What is Machine Learning?
Let's get properly acquainted! Often intertwined with each other, Machine Learning is within the realm of Artificial Intelligence. It is a form of AI that enables machines to learn patterns, make better decisions based on the provided data, and learn how to accomplish complex tasks without needing to heavily program the machine or constantly require human assistance.

This technology is simply brimming with possibilities, and its tremendous impact on companies has completely transformed how we work. And did you know that Machine Learning is more internally focused? 48% of Machine Learning cases focus on operational efficiency and 46% on business decision-making.

There is no doubt about Machine Learning's power to supercharge a business, no matter the industry or individual goals for each business! If you find yourself searching for case studies about Machine Learning, you will find an unending list of successes, including industry heavyweights. To save you some time, we have narrowed down the best Machine Learning case studies in this blog.
How can Machine Learning help in decision-making?
Making smart business decisions can be daunting for many. As we move forward to a more advanced age, making calculated and data-driven decisions has never been this easy!

How?

Well, when you have a massive volume and a large variety of data, it's undoubtedly overwhelming and, not to mention, highly complex to a human mind to crunch down this many numbers and come up with the right information. Machine Learning takes these vast data sets and speedily unlocks value with immaculate information from the data given unlike any other human. In turn providing you profound guidance in better business decisions.

In the decision process, Machine Learning algorithms are designed to make data-backed predictions and produce insight about a pattern in the data. From experiencing the pitfalls of constantly having to make decisions for your business that ultimately slows you down, to a seamless process of garnering data and having your Machine Learning solution make smart decisions with the best possible outcome.

The world is right on the edge of a computing technology revolution. Get in touch with us to learn more about how you can make the most of its incredible potential right now!
The Future of AI
So, what's next? There are endless possibilities with Artificial Intelligence, but one thing's for sure: a bright, smarter future waiting to be unlocked.

With Artificial intelligence now being widely used in Australia, from self-driving automotives to healthcare tools to making clinical decisions, this revolutionary piece of technology shows no signs of stopping. It is reported that 79% of Australian organisations believe AI will be 'very' or 'critically' important to their business. Machine Learning is continually enabling businesses to optimise and streamline a plethora of processes to meet the growing digital demands.

So, expect exponential growth in Australia's AI capabilities in the coming years. While Machine Learning and Artificial Intelligence as a whole are still developing, remaining hesitant to adapt and learn would only mean missed opportunities that Machine Learning has to offer for your business, no matter the industry you're in.
LET'S WORK TOGETHER
Lateral is a software development company from Perth, and we are passionate about delivering strong, robust software solutions to our clients of different industries and needs. We specialise in enterprise level systems that can solve many of the problems that businesses face as they grow and adapt to an ever-evolving marketplace. We proudly stay ahead of the curve in a fast-paced industry that is constantly changing.

No problem is too big that it can't be solved with a little bit of lateral thinking.

Ready to join the digital evolution? Get in touch!