eMed for WA Health Biomedical Engineering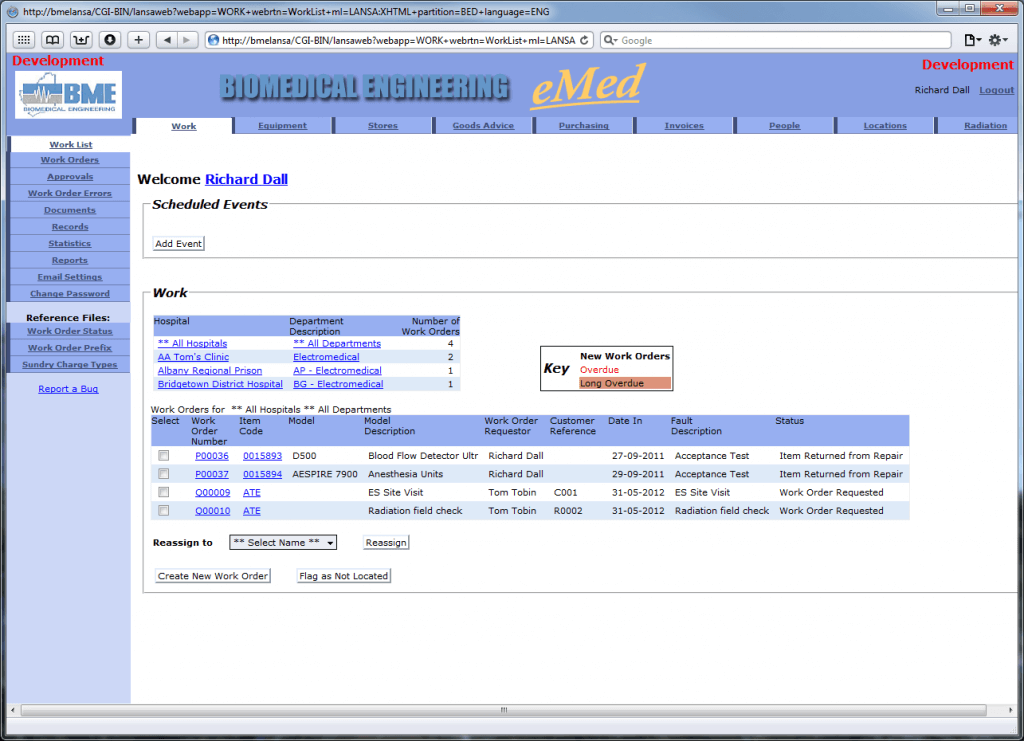 Another department within WA Health, the department of Biomedical Engineering (BME) for the WA Country Health Service, have similar responsibilities for medical equipment and wanted to implement their own version of the eMed system. However, the MTP engineers working on the system did not have capacity to support an additional installation, so Lateral once again became involved to modify, deploy and support the eMed system for BME.
As is often the case with custom systems, eMed was heavily tailored towards the needs of MTP and fairly substantial changes were needed to integrate it with BME's workflow. For instance, MTP engineers are generally in the same hospital as the equipment, but BME-maintained equipment is deployed across numerous country hospitals, nursing posts & Flying Doctor bases, so sending out an engineer requires scheduling flights & accommodation.
The modified system was successfully deployed in February 2012 and has been managing BME's core services since then. Lateral has continued to refine eMed to suit business practices and streamline the workflow.
One of the key aspects of this project which we feel is under-appreciated within the software community, is how much business process and workflow impact software design. Both versions of eMed support what is fundamentally the same task, however the implementation is quite different given the process differences required to support a more diverse and dispersed customer base. This is a pattern we've seen repeated across multiple projects — it's worth being reasonably cautious about slotting custom software in somewhere other than where it was built.