Mobile App Development Trends to Grow Your Business In 2022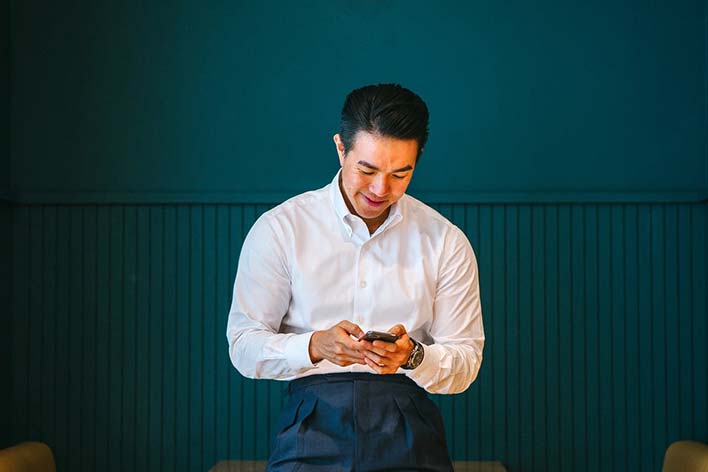 Let's face it. We can't live without mobile apps! And thus, the mobile app development industry continues to grow exponentially. During these ever-changing times, following mobile app trends is an absolute must for businesses.

Today, custom business application development is crucial for competing in an online world. It's a game changer for business models, operating models, and marketplaces. In fact, the mobile app market revenue is expected to hit $693 billion US in 2022. Plus, with the pandemic still heavily affecting businesses and the continual rise of remote working, it's no surprise mobile users increased to 6.658 Billion worldwide. This makes business app mobile development all the more important for a company's digital success.
Still, wondering how this can boost your business? There are infinite possibilities for custom business application development. With the right app tailored to your needs, you can easily eliminate pesky paperwork and experience a major boost in efficiency. One of our clients even saved a massive 50% of their work time using a custom enterprise mobile app! You can read more about that case study here.
So, it's your time to decide whether to ride the tidal waves of change or be wiped out and left out in the game!
However, not all mobile apps are created equally. Some are brilliantly designed and built for success, and some completely miss the mark. What's the secret?
Keep up with mobile app trends to stay current and informed. Read on for the latest trends in mobile app development that you should watch out for in 2022.
The latest trends in mobile app development
1. The rise of 5G
5G has been around for a while, but it is now starting to pick up and be incorporated at full scale. Mobile app developers worldwide are also picking up the pace and utilising the network's exceptional speed, connection capacity, and security. With more 5G-enabled devices in the market, missing out on the opportunity to join in on this surge will hurt your business. In 2022, experts are expecting that 660 million smartphones will have 5G connections, and that's a massive 47.5% of all devices!
5G significantly expands the possible functions of mobile apps. From creating mobile versions of high-demanding games and more sophisticated and realistic AR/VR apps to streaming quality 4K-8K and 360 videos.
For business, mobile app development means having extremely high speed and bandwidth, near-zero latency, more connected devices, and, of course, reducing power consumption with increased connectivity density.
The bottom line is, utilising 5G technology for your business mobile app development will make it faster, smoother, and more efficient.
2. mCommerce
eCommerce has been all the rage ever since the pandemic rampaged the world. With sales raking in $3.5 trillion US in 2021, 72.9% of these sales were made on a mobile device! Mobile commerce or mCommerce is poised for further growth in 2022.
Businesses, big and small, will now need to rely on mobile apps. Failure to adapt to this mobile app trend will only mean missed opportunities for conversions. That's why some companies are already leveraging mobile commerce platforms for better brand visibility and customer experience.
As COVID makes its longwinded stay and as society continues to shift to a new normal, consumers will be more inclined to purchase their wants and needs online through their smartphones. There is no doubt that mobile commerce will be among the steadiest and most promising mobile app trends in 2022.
3. AR and VR experiences
The power of Augmented Reality (AR) and Virtual Reality (VR) has gained its prominence in education, marketing, eCommerce, travel, gaming, just to mention a few. Although in its early days, AR and VR made a debut in gaming development. It has now evolved into a tool for different industries such as education, where users can learn more through an immersive experience powered by VR.
Its success through gaming has paved the way for many more companies of different industries to leverage their offerings. Take Ikea, for example, using Augmented Reality to let their customers see how furniture will look in their home before buying it. Or L'Oreal offering a virtual makeup app for their customers to try on different makeup looks without having to leave their homes.
So, in 2022, expect amazing innovations shaped by AR and VR in the mobile app development industry. And the revolution has already begun! According to Statista, the worldwide market of AR and VR technology will rise to $300 billion US in 2024.
With its spike, this is the time to leverage your business mobile app development to bring unrivalled experiences to users on mobile.
4. Improvements to security
As businesses invest more into cybersecurity, the impact will follow through to mobile development. It is expected that in 2022, there will be a heavier emphasis on mobile app security. Leading companies are upping the ante when it comes to securing their data. After all, according to the Check Point State of Mobile Security 2021 report, 46% of organisations experienced at least one employee who downloaded a malicious mobile app.
This is where Biometric Authentication comes in. This rising mobile app development trend identifies users by their fingerprints or facial recognition. Take Apple Pay and Paypal, for example!
This latest mobile technology completely redefines how security should function for mobile apps, giving that extra assurance and level of protection to precious data. Utilising this powerful technology in your mobile app development, whether you're in fintech or healthcare, allows your users (and yourself) to have peace of mind.
5. Artificial Intelligence
Technology powered by Artificial Intelligence (AI) continues to revolutionise how our world works, and app development for business is no exception. AI and Machine Learning remain to blaze a trail as it quickly becomes a growing trend in mobile app development, enabling a doorway to better analytics and personalisation.
Growing AI trends such as AI business operations, robotic process automation, and intelligent process automation are shaping the way we identify potential risks and elevate the customer experience.
The number one benefit of AI mobile app development is effective cyber fraud prevention using AI-powered algorithms to detect suspicious patterns and behaviour. This also elevates risk management and predictive analytics.
Another benefit is improved customer experience with the help of chatbots. As well as AI-powered purchase and saving recommendations, consumer behaviour traction, customisation, credit scores analysis from multiple layers, and brand-new payment gateways.
With the incredibly vast scope of uses in the mobile app development industry, AI and Machine Learning will surely stay on the top mobile app trends list for 2022. You can learn more about how multinational companies are transforming their business with the power of AI and Machine Learning here.
Stay ahead of mobile app trends with Lateral
When it comes to the digital world, the only constant is change!
Here at Lateral, our mission is to continually innovate solutions that will supercharge your business and keep up with consumers' ever-changing trends and growing demands.
We develop tailor-made mobile apps for businesses that require a robust solution. We are iOS developers, Android developers, Windows developers and Web app developers. Our role is to be across a range of technologies so we can recommend the best one for your situation and create it to fit your needs perfectly.
Use our software development expertise of over 35 years for your mobile application project.
Let's start turning your app idea into reality today! Contact us today!