Using cloud computing to scale and grow your business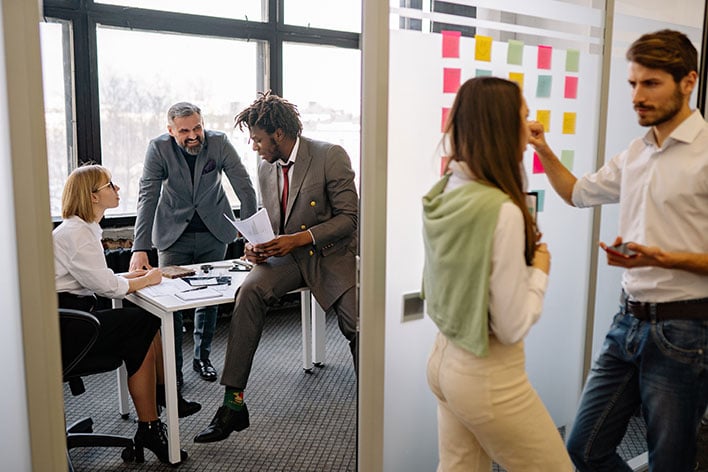 Oh to hear those tales of major, overnight success! You get starry-eyed and hopeful for your own success. But one thing we all forget in pursuit of growth is scalable technology. When you hit gold with rapid growth, you will sink if you lack the technology to support it.
Without a doubt, scaling is at the top of our business ambitions. We'd love nothing more than to expand our offerings to clients, solve more problems, and of course, increase our profit! However, if you don't have the technology to back your growth, you'll be left with unhappy customers and a stressed-out team.
Beyond tactics to reach your peak and spike customer interest, you'll need systems that can scale to meet the needs of your team and customers. Should you strike gold, you'll be more than ready.

But how can you be ready for such growth and success? The answer is the cloud.

Cloud computing for business opens up a world of potential and speed in scaling. Businesses that utilise the cloud seamlessly scale and grow without those technological hiccups along the way. Cloud computing essentially makes scaling easier, faster and more affordable without the hassle of those lengthy, expensive, manual upgrades.
Ready to harness the power of the cloud? Get in touch, and we'll show you how.
So, what is cloud computing?
The cloud is one of many IT buzzwords floating around today. You'll hear that everything is "up in the cloud", but what exactly is it?
Cloud computing is the on-demand availability of your business' resources, data, and computing power on a network of remote servers hosted on the internet. You can easily access everything you need, no matter the device or where you are. And the main benefit of cloud computing? It's the opportunity to scale.
It's truly a game-changing technology that can elevate your business. Despite this, some prefer to store their precious data on their office's servers. But let me tell you, it's not as secure or efficient as it seems!
What are the limitations of a traditional server setup?
Relying on a traditional IT infrastructure has risks such as losing all your data from a flood, bushfire, or other common natural Australian disasters.

You will also face server crashes if you experience an unforeseen increased demand for your web services. Not to mention the stressful increase in hardware cost as you strive to scale your business.
Scaling resources for using traditional server setups are frustratingly limited. Should you push forward, you'll need to either add more computing power (CPU, RAM) to your existing machines (vertical scaling) or add more servers/machines (horizontal scaling) for you to keep your system running smoothly. This will also mean vertical and horizontal scaling will be done manually.

The process will be painstakingly slow and costly as your team orders servers and takes machines offline to upgrade. You'll definitely have to plan ahead before big days like Black Friday.

On the other hand, cloud computing skips over the lengthy and costly manual steps of scaling. Since all resources already exist, from computing power to servers, cloud computing has zero guesswork. Scaling is automatic. If you experience a double or triple in product use overnight, your systems seamlessly scale up to meet demand.

But before we uncover more of the wonders of cloud computing, let's talk scaling.
Types of scaling in cloud computing
Cloud scalability gives you storage solutions that adapt to your business' fluctuating needs, enabling greater flexibility. While a traditional server system has a fixed and set size, you can still scale upwards; however, you risk wasting resources if your trajectory goes south. You are still expected to pay to maintain space, even if it is not being put to use.

Cloud computing is a different story. It allows you to use space as it is needed. And as your business flourishes, you'll find that scalability is a multifaceted concept that can be divided into three distinct categories: vertical, horizontal, and diagonal scaling.

Learn about cloud computing for business
Horizontal Scaling
is all about scaling out. When you implement new servers to better accommodate the ever-changing needs of your business, use horizontal scaling. This type of scaling requires independent web applications, especially if multiple servers are employed. This opens the door to infinite storage space and, of course, growth potential.
Vertical Scaling
is scaling up. Unlike horizontal scaling, vertical scaling does not make infrastructure changes but increases existing servers' capacity. This is ideal when companies have increasing users or are expanding application services but do not require building anything out to accommodate more complex demands.
Diagonal Scaling
is a combination of horizontal and vertical scaling. This refers to when vertical scaling is employed until the server's maximum capacity. Horizontal scaling then takes place and scales out to maximise growth opportunities. Most businesses favour diagonal scaling for its increased opportunity.
Looking to grow your business?

Contact us to find out how we can help you scale using cloud computing.
Benefits of cloud computing for business
Since there are many sweet benefits cloud computing solutions can offer for your business, let's break it down into five categories.
Increased storage capacity
Data storage is the main objective of using cloud computing solutions. Having more storage is a valuable asset for any business! It is a paramount part of day-to-day operations and as your business grows, so does the need for more storage. With cloud computing, you are given unparalleled flexibility when scaling up or down, depending on the demand. And the best part? You only pay for what you use. No wasting resources! The cloud grows with you, so scaling is automatic and seamless. You need not worry should you experience exponential growth for a short amount of time.
Fast and powerful infrastructure
Other than data storage, businesses also need the support of adequate infrastructure to power fast and efficient functionality. Your output suffers tremendously if your servers lack the power to support the number of users or the workload of hardware and software usage. With a cloud computing solution, businesses easily increase power as needed without the hassle of adding physical equipment when using traditional servers. Cloud computing diminishes performance issues and technological hiccups, improving workloads with ease.
Versatile and adaptable technology
While the world of technology moves at dizzying speeds with constant innovations and adaptations being put out every day, one tool can be game-changing in one year and then become completely obsolete the next. But one thing is for sure, cloud computing makes it so much easier and simple to transition from one application to another. Cloud infrastructure can seamlessly be expanded or adapted. As the world continues to revolutionise, cloud computing adapts itself to keep up with the times.
Improved efficiency processes
Without cloud computing and relying solely on an on-site server, your team will pour all their precious time troubleshooting IT issues rather than utilising their time to innovate and grow the business. Cloud computing skips out on the tech problems and saves you a ton of time, not to mention the cost! Thanks to cloud computing's feature that lets you and your team access resources and data no matter the device or location, this supercharges efficiency and makes it a lot easier to do work while on the field and keeping all data up to date.
Protected and secure data
While the concept of having all your precious data up in the cloud can be frightening in terms of security, what makes cloud computing safe is its unique logins and frequent checkpoints where systems constantly check credentials, acting as security gates between each tool. Access to one doesn't automatically give access to another.
Harness the power of the cloud with Lateral
As software developers are constantly fulfilling sophisticated requirements, we leverage modern technology while putting a strong emphasis on enterprise-grade security. That is why we only use cloud service providers we trust, such as Microsoft Azure, AWS (Amazon Web Services) and Alibaba cloud. We are in direct contact with their experts based in Australia.

You can choose their data centers based in Australia, so your data is stored locally, not overseas. Different levels of encryption are offered; hence even government departments are using cloud computing services to store their data. We select the right level of data encryption needed for our clients' needs.

With over 30 years of experience in providing cutting-edge technology to businesses internationally and locally, Lateral ensures every solution we provide grows as your business grows. We understand your business needs and design everything accordingly, setting you up for long-term success!

Not 100% sure how it all works with the cloud? Leave it to us! Our experts know what to do.