Microsoft 365 Business Product Information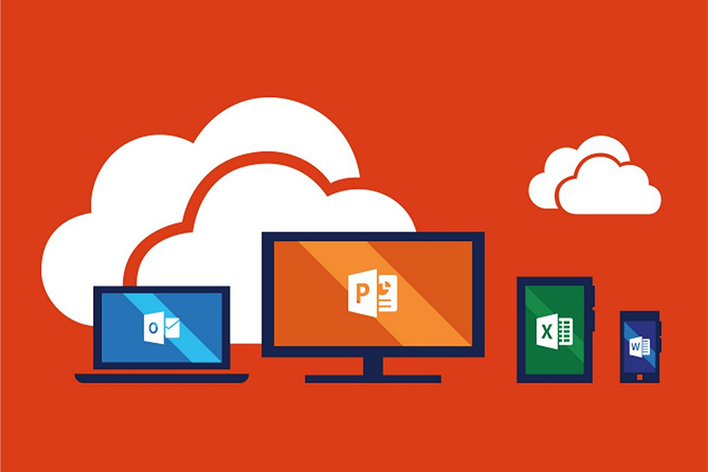 Microsoft 365 is a software suite of tools that includes the familiar core 'Office' products such as Word, Excel, PowerPoint and a large suite of supporting products and services depending on the subscription. There are four subscriptions in this 'Business' range of Microsoft 365 and below we describe all the products included in each subscription:
Microsoft 365 Apps for Business

Microsoft 365 Business Basic

Microsoft 365 Business Standard

Microsoft 365 Business Premium
Subscriptions
Microsoft 365 Apps for Business
This cost-effective subscription gives you both web versions and desktop versions of Outlook, Word, Excel and PowerPoint, as well as the desktop versions of Publisher and Access. With the included OneDrive, you can store files in the cloud but as SharePoint is not in the subscription, the files can only be directly accessed by the owner.
The other important item to note is that while Outlook is included, there is no Exchange, meaning there are no email accounts included in this product; you connect your Outlook to other existing inboxes.
Microsoft 365 Business Basic
Formally known as Office 365 Business Essentials, this is the cheapest of the Microsoft 365 Business offerings. It doesn't provide users with desktop versions of the Office app suite, but users gain access to web versions of Outlook, Word, Excel and PowerPoint.
It does come with Exchange, so you can set users up with mailboxes. Teams, SharePoint and OneDrive are also included so you can use all of the collaboration tools and services that these provide.
Microsoft 365 Business Standard
This gives you all of the essential Office apps; Outlook, Word, Excel, PowerPoint, Publisher and Access. It's also backed by services like Exchange, SharePoint, Teams and OneDrive. Web versions and desktop versions are available for all, with the exception of Publisher and Access which are available on desktop only.
Microsoft 365 Business Premium
This subscription gives everything that Microsoft 365 Business Standard provides, with additional security tools such as Intune and Azure Information Protection. These services add PC and mobile device management and many advanced security features such as defence against zero-day threats, ransomware, and other advanced malware attempts.
If you would like to know more about the cost of subscribing to Microsoft 365 Product with us, fill in the enquiry form now.
Products & Services
That's the subscription breakdown. If you're not sure about some of the Microsoft products or services listed above, here is a brief overview of some of the key items in Microsoft 365.
Office Tools: Word, Excel, PowerPoint & OneNote
These are the core office tools that every business needs. From producing word documents to data spreadsheets, they are indispensable applications in the office.
Email: Exchange and Outlook
Microsoft Outlook is a feature-packed email client and Exchange is Microsoft's proprietary email and calendar server. While both are popular applications, some users may not be familiar with Exchange. It basically provides an integrated server system that stores and manages your emails, contacts, tasks, calendar and more, all in one place.
Teams
Teams is a communication platform that allows easy collaboration of chat, online meetings and documents. Teams allow users to create one or more workspaces, called Teams, that enable users to communicate and collaborate via chat messaging, audio or video calling. You can also collaborate by screen sharing, file sharing and much more.
Security and permissions are all managed by Microsoft 365 accounts and the file storage is backed by SharePoint. Team areas utilise tabs to integrate with over 50 Microsoft and non-Microsoft applications, such as websites, PowerBI, GitHub, Trello, Jira and various other applications. Teams can be used on the web, desktop and mobile apps.
SharePoint
SharePoint is a web-based collaboration platform that was originally designed as a document management tool. That's why it's perfect as the file storage system for Microsoft Teams. If you want to dive into SharePoint's more powerful features such as forms, lists or manage your external-facing websites, you can do it with most Microsoft 365 Business subscriptions.
OneDrive
OneDrive is a file syncing service that allows you to store files in the cloud and sync them to your local machine. You can use OneDrive to sync your personal files or sync files from collaborative sources such as SharePoint. This works well with Teams if you want to sync your Teams files and work locally with the Office collaboration tools.
Publisher
Where Word focuses on text composition, Publisher is a design tool in the Office suite that focuses on design and allows users to create professional layouts. It provides a wide variety of templates and design tools to make it easy to create polished marketing material, brochures, greeting cards, etc.
Access
Access is a simple database tool that gives users a graphical interface for creating forms for data entry backed by a relational database. Not a developer but you want to structure your data other than a flat spreadsheet and control who and how data is entered? Then Access could be the tool for the job. Aimed at power users more than developers, Access makes it easy to create and share databases.
Direct vs CSP
All of the above are available through direct Pay-As-You-Go and Cloud Solution Providers (CSP). To learn the benefits of purchasing through a CSP, this article Benefits of Purchasing from A Microsoft Azure CSP Direct Bill Partner can help you. If you purchase directly through Microsoft, you can do monthly payments but they require an annual commitment for the number and level of subscription.
If you need any more support deciding which subscription is best for you, get in touch with us today and we'd be more than happy to give you some helpful advice.