Apple Mobility Solutions
.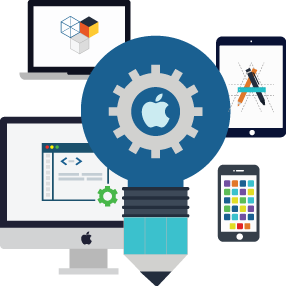 Although we are technology agnostic and use various technology vendors such as Samsung or Apple, we are specialised in certain fields. We are proud to have gained the status of being a member of the Apple Consultants Network. Actually, Lateral is WA's first qualified organisation for Mobility Solutions AND Mobility Deployment in the Apple Consultants Network (ACN). Hence, we can help you with developing iPhone and iPad apps, cloud integration and Enterprise Mobility as a one-stop shop.

Services comprise
Mobile app development for iPhone
Mobile app development for iPad
Enterprise mobile app development
Mobile Device Management (MDM)
Mobile applications with Cloud based databases
Configuration and management of Apple Volume Purchase Program (VPP)
Additionally, we are an authorised Apple reseller. This means when we have developed a bespoke software solution for you, you don't need to purchase your Apple hardware such as Macs, MacBooks, iPhones, iPads and iPods elsewhere. To be honest with you, we don't have a high margin on Apple hardware products, we see it more as a service; our clients find it convenient to have their custom software installed on the required hardware. For example, they can hand it over in the required configuration to their workforce using mobile technology in the field.
We can also assist with Mobile Device Management to ensure you are in control of what your employees can access.
If you would like to talk to Perth's Apple experts, get in touch with us today.