system integration Software Solutions
GET RID OF SILOS WITH SOLID SYSTEM INTEGRATION SOFTWARE.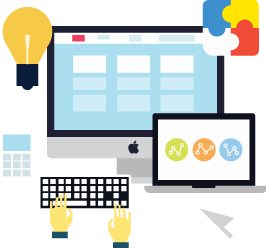 GOOD SYSTEMS GET INTEGRATED
A fully efficient workplace needs properly integrated systems. If you are running programs that are disconnected you are not working at your peak capacity. Systems like this cause all sorts of problems and requires complex workarounds that slow everything down and increase the risk of errors creeping into your data. Connecting all your software to properly integrate is the first step to making your business run more efficiently and accurately.
Accelerate work processes
Improve workforce efficiency
Increase productivity and accuracy
Provide management a dashboard overview
GET YOUR PROGRAMS TALKING TO EACH OTHER
It can be difficult to find a software vendor that does everything the way you want it. Instead of compromising on your efficiency by using out-of-the-box packages, custom integration can make the most powerful software work in harmony.
We provide smart software solutions to make sure that all of your programs will seamlessly work together. With almost 30 years of enterprise level software development, we can customise this software directly to your needs so that you can have a system that gets the most productivity and efficiency out of your business.

DIFFERENT VENDORS? NO PROBLEMS.
We helped Honda Motorcycle and Power Equipment (Honda MPE) dealer network pull all of their enterprise resource planning into one system. Previously, Honda had one system covering major equipment and another covering parts and warranties. These systems were not integrated and dealers had to manually place orders through separate systems in a time consuming and wasteful process. Within three months, Lateral had developed an integrated web-based solution (Honda's Online Ordering System) that allowed dealers to quickly and simply place orders, reducing errors and increasing customer satisfaction by 100%.

If you want your software to play nicely together then contact us now.
Want to read more? You might be interested in: