iOS App Development Perth
WHY DEVELOP FOR A IPHONE AND IPAD
?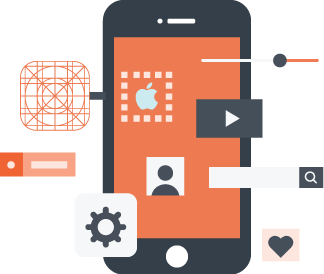 Businesses need to adapt to meet the challenges of the modern market. Things move so fast today that if you are not ahead of the curve, you've already fallen behind. Even marginal gains in the productivity and efficiency of your business processes can have a significant impact on your bottom line, especially at an enterprise level.

That's where mobile app development comes in. With the increasing prevalence of smartphones and tablets, consumers are spending more time on mobile apps than ever before. Professional mobile apps not only enhance user engagement but also serve as a direct channel for your business to interact with your customers. As a result, mobile apps play a crucial role in building customer rapport, not to mention carving out your business' competitive advantage.

iOS app development takes advantage of Apple's large share of the consumer smart device market to solve old problems in new ways. The possibilities for improving your business with iOS mobile apps are endless: from internal supply chain simplification to public-facing promotions to anything you can put your mind to.
LATERAL APPLE CONSULTANTS
Our app development team prides itself on being specialists in Apple technologies. In fact, we were the pioneers in Perth, becoming the city's first certified Apple Consultants in two critical areas: Mobility Solutions and Mobility Deployment. This dual qualification equips us with the comprehensive expertise required to address a wide range of challenges in iPhone and iPad app development.

Whether you're looking to develop a brand-new mobile app or optimise an existing one, our mobile app developers are eager to assist you. We bring a wealth of experience and a keen understanding of Apple's design principles and technical specifications to every project, ensuring that your app not only meets but exceeds industry standards. Trust us to turn your app idea into a functional, user-friendly, and successful reality.


WHO USES OUR APPS AND HOW DO THEY USE THEM?
Supply Chain Improvement
We helped Hollywood Fertility Centre improve their inventory management by integrating an iOS app into their workflow. We cut paperwork, reduced errors and saved a massive 50% of the time previously spent matching patients' data to their supply data so they could ensure they always had adequate supplies on hand. Read more about their success with our app here.

The Digital Classroom
We helped traditional publishers PLD Learning Resources break into the digital sphere by developing an iPad game to improve literacy in children. Working with renowned Perth speech pathologist Diana Rigg, our iOS app developers created a game that teachers have embraced in their classrooms. Our app skyrocketed to the 6th place on the app store's listing of top-paid iPad apps just four weeks after its release. Find out more about how we helped PLD here.

LATERAL MOBILE APP DEVELOPMENT. YOUR PROPERTY.
Intellectual Property rights can be a minefield in app development, so we like to keep things nice and easy. If you're concerned about your ideas, our non-disclosure agreement makes sure that everything stays between us. Once we've finished developing the app, it's all yours. We don't retain any rights to the app, and you keep all Intellectual Property rights so you can do whatever you want with it.
If you've got an idea for iOS app development, we're here to help!
---

Click on the icons to see more examples of our work as Apple app developers in Perth
iOS App Development FAQ
What is iOS app development?
iOS app development can be simply defined as the process of creating mobile applications for Apple devices. This includes both iPhone app development and iPad app development, where the apps are deployed to the App Store for users to download.
At Lateral, we specialise in custom solutions for Apple devices and have recognised credentials in the Apple Consultant Network.
How much does iPhone app development in Perth cost?
The price range of both iPhone and iPad app development differs based on the level of its complexity. Factors such as the functionality, visual design and level of security can impact the cost considerably. You can find out the average benchmarks for iPhone app development in Perth here.
The cost of iOS app development should also factor in the price of maintenance and updates. This price will vary depending on the size of required updates, but in general, should cost around 20% of the original app development quote.
What is the difference between iPhone app development and iPad app development?
As the popularity of apps grows, there is almost an app for every need across every platform for every device. Although the experiences are similar, there are a few key differences between iPhone app development and iPad app development. The main disparity is the interface, as the two devices' screens require different designs during the development phase. There are also different target markets, for example, the education sector leans towards iPad app development as a schooling tool.
Not sure which platform to choose? We are happy to consult and advise you. Before starting any coding, one of our business analysts will sit down with you and analyse your processes to find the optimal mobile solution for your needs.