Asset Tracking & Synchronisation Web App For Tracc Civil
Services Used:
Custom software development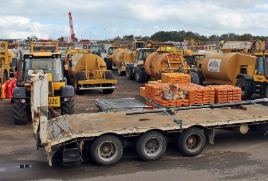 About Tracc Civil
Established in 2011, Tracc Civil is a civil engineering company which has a number of different divisions that enables them to cover a wide range of work. This includes everything from road construction to bulk earthworks and wall construction.
The company's established systems ensure they utilise their organisational and management capacity to successfully manage projects and provide value to their clients, especially when it comes to risk management, project control and quality assurance.
The company has completed numerous projects for clients such as GNC Northlink WA, Sutherland Hockey Field, Lake Joondalup Baptist College, Silhouette Property Pty Ltd and Morley Drive Drainage.
With more than 288 projects completed to date and many more on the horizon it is vitally important for the continued success of the business that they're able to effectively manage timesheets and track their assets and asset usage accurately.
To ensure this, they worked with Lateral to upgrade their own in-house custom software solution: "OnTracc".

Challenges
Tracc Civil was using a third-party timesheet and asset tracking system before "OnTracc" was developed.
All projects were managed using the Workbench Project Management software, however they had a few issues with the system - it didn't sychronise and often caused duplication of stock orders, unauthorised stock orders, unattended deliveries and difficulties tracing the delivery dates of backorders.
Due to these limitations, Tracc Civil engaged Lateral to improve the performance of the software and aid adoption within the company.
Lateral's enhancements to OnTracc allowed Tracc Civil to track their valuable assets, asset usage and synchronise with other software they use for inventory and scheduling.
It's all about making their lives easier, more efficient and more productive.

Solution
By working closely with Tracc Civil, we integrated with a GPS tracking system that allows them to track their vehicles in real time. The software was created to not only give security over assets but also to go a step further and integrate payroll activities and much more.
This web application also enables the company to have an overview of their assets at any given point in time. The system also allows staff to swipe on and off at work, which also ties into a payroll system.
The end goal for this build is that Tracc Civil can roll out the application into the business space and make it a marketable product so that other companies leverage the power of what OnTracc is designed to do.
The development of this application has helped the company to achieve the end results they desired;
Stock maintenance is fully synchronised between multiple software systems.
It is now easier for them to manage projects with the help of cloud-based solution.
We were able to assist Tracc Civil to migrate their on-premise workloads to run within Microsoft Azure Cloud in order to keep the office fully operational on cloud. This migration process aims to be cost-efficient whilst minimising disruption for the employees.
The end result has improved the company's resource management significantly and has helped them to simultaneously avoid duplication of orders and trace orders more efficiently.
For more information or to find out how Lateral can help your business, get in touch with us today.