JWA App For Vehicles & Mats Tracking
Client :
JWA Oilfield Supplies
Services Used:
App development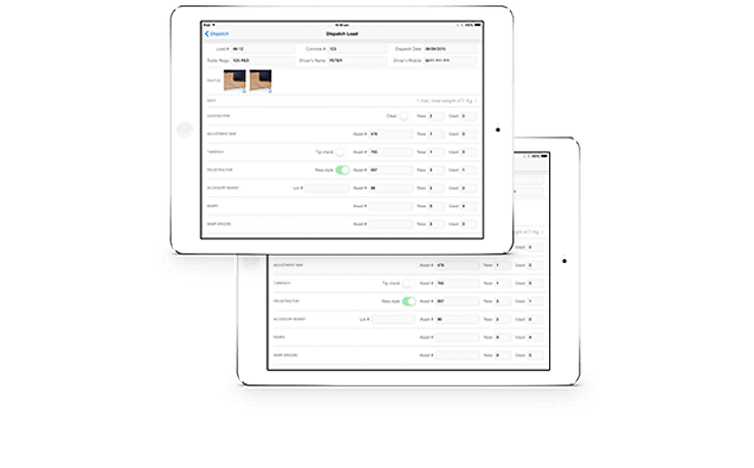 Challenge
JWA Oilfield Supplies is a trusted supplier of composite matting, rumble grids and solar distillation to Australian resource, energy and infrastructure projects. The company is the exclusive distributor of DURA-BASE composite matting and offers a range of heavy-duty matting solutions to assist in the creation of temporary roads and safe work platforms.
JWA had been recording all the information regarding their transactions and products manually for a long period. This includes details on their outgoing shipment of bog mats, client details and more.
For a hire business, such as JWA with a nationwide reach, recording the high volume of stock movements manually had cost them a hefty amount of time and resources. This process also had a higher chance of human error which could cost the company a significant amount of loss productivity.
That is why they approached Lateral to automate their operations concerning their clients' rental and site equipment needs. They wanted to develop an inhouse App that was able to collect data for outgoing supplies and generate a condition report of supplies being returned.
Additionally, JWA wanted to increase productivity by diverting staff time and energy away from routine reporting. We had to develop a new app that was able to take in new data as input, use it to quickly create reports and store the data for future use.

Solution
We built a standalone native iOS app for JWA Oilfield Supplies that allows the user to quickly and easily create records containing relevant information on the outgoing supplies.
Details about client transactions are also recorded. These details include the number and type of bog mats shipped; the date and time the bog mats were shipped; and the vehicle used to transfer the mats to the client. The variety of products come from the sheer volume of composite matting they represent with well known brands such as DuraBase, Ultrapanel, FODs, Pro-Tech and more.
When rented bog mats are returned, the user can add details about the state of each bog mat and take pictures for their record. A formatted report is then generated and the user can download the data to be included in the condition report.
The crew at Lateral also assisted with the creation of a comprehensive condition report for JWA's Oil and Gas clients and civil construction customers which details the level of servicing and inventory counts at the end of a project. This is an integral part of their commercial process which required a high level of accuracy.
Our Expert Take
A Minimum Viable Product (MVP) approach to development is very important for a pilot project and that was the approach we took to build the JWA app. We started by building vital functions within the app which enabled the client to use the product in their operation. At the same time, we were able to obtain continuous feedback from JWA as they used the app.
The app was taken out into the field and used in recording actual transactions. JWA was able to save resources and reduce error by recording transactions and tracking the movement of their supplies on the app. Additionally, they also used formatted reports and photos from the app to produce operations reports.
Since we emphasised the vital functions and stability of the app early in the development process, it functioned well up to its requirements. As a result, any potential changes to the app (e.g. backend database, automated reports) can be considered improvements and additions rather than necessities of the solution.
With a standalone app, JWA was able to reap the rewards of a more efficient process. They managed to improve their overall operation by saving on time and money while reducing human error.
However, those are not the only advantages of investing in automation and app development; JWA is now also able to focus more of their resources on other efforts such as in enriching their staff and expanding their business. And all this was achieved even without the intricacies of a backend database.