Rock Lobsters Real-Time Tracking Web App For GFC WA
Client :
Geraldton Fishermen's Co-operative
Services Used:
App development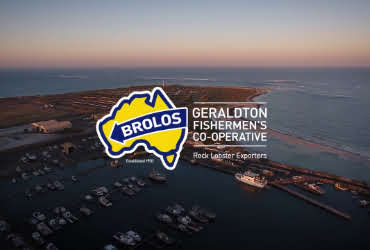 About GFC
Geraldton Fishermen's Co-operative (GFC) is a global leader in rock lobster processing and exportation since the 1950s. They are known for their "Brolos" brand of lobsters, which are in high demand with consumers across the globe.
With a huge market for lobsters overseas, they have moved their business focus to take advantage of opportunities in China. As a result, they are now a major supplier of premium-quality Western Rock Lobsters from Western Australia.
With a total live lobster holding capacity of 220 tonnes, GFC is able to supply throughout the year and keep up with international demand.

Challenges
Exporting products overseas can pose a number of challenges, especially when fresh produce and livestock are involved. These products require not only a storage system that keeps them alive and fresh but also an integrated online system for real-time tracking and reporting.
In this case, GFC had different systems dedicated to storing customs paperwork, sales, and tracking of their rock lobster shipments. This leads to extra workload, reduced efficiency and inaccurate reports.
In order to streamline the whole process and paperwork, GFC engaged Lateral to develop a .NET web application with two main components; a customer-facing site and a back-office one for GFC staff. The customer-facing application needed to be easy to use and available on PCs, tablets and smartphones with essential features such as real-time tracking.
GFC also needed a back-office application for managing orders and other data on their PCs.

Solution
Firstly, Lateral developed a web app that improves real-time tracking of the rock lobsters from when they are harvested from the ocean to when they enter the consumer market. It also integrates reports from different sources, keeping customs papers, invoices, and data of freight providers in one place. As a whole, the application provides easy management of orders and data through all the product's stages.
By using a responsive design, Lateral was able to create a client-facing application that works well on PCs and mobile devices. Besides purchasing and tracking their orders, customers can also file lobster mortality reports in this system.
Since GFC has shifted their focus to the China market, Lateral also suggested and assisted them to migrate their products and data to Alibaba Cloud for better web performance, which is crucial for companies that are planning to expand to China.

Result
The bespoke software solution for GFC has significantly improved the efficiency and accuracy of their internal workflow. All the paperwork and processes throughout their product's journey can now be fully recorded and integrated on the web application for easy tracing.
By using Alibaba Cloud hosting, they can maintain the performance of their website to ensure it provides a smooth transaction for all GFC clients. Their new system also provides their clients with all the functionality they need, from purchasing and tracking orders to getting customer support.
For more information or to find out how Lateral can help develop a web app for your business, especially for foreign markets like China, get in touch with us today!